Michael Mauser is E-Man's best friend, but he does have a career separate from E-Man. This checklist is to highlight the comics starring Mauser.

The Charlton Comics Years: 1975-76, 1982



1. The Inheritance
2. The Hit
3. The Understudy
4. To Be Frank (also appeared in the text story "Cement Galoshes")
5. The Frame
6. Gangwar






1. Four Color Crime Part 1: The Odd Couple (E-Man cameo)
2. Four Color Crime Part 2: All In Color For A Crime
3. Four Color Crime Part 3: You Will Believe A Man Can Die! (E-Man and Nova cameo)



The New Crime Files of Michael Mauser



Alpha Comics Years: 1993-94













It is important to note that there is a difference between the two volumes of Noir Quarterly. In issue 2 of vol. 1, there is no Mauser story.
In volume 2, issue 1 has no Mauser story.

A big "Thank You!" to Randy Carter, for his work compiling this checklist. He is a true fan of the great Michael Mauser, and E-Man. "Thanks Randy!"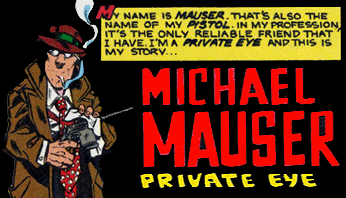 Supernaturalcrime.com: Now!



Click the banner for the latest Michael Mauser, P.I. story!